Action !
Wow ! We are already in February. Time passes too quickly !! I worked with stilt in some events in December with the company Tewhoola, and also played in the show "the blue bird" with the Collectif Quatre Ailes. And after the new year, I didn't have much activity, was quiet at home. So I will to tell some news…
In Japan, 2014 is the year of the horse. Maybe in China too ? "I was born on a year of the horse ! It's my year !! Il will to try gallop like a horse this year !! " I thought so back in the end of last year. But in the new year, a thief tried to stole my phone in a train after my job. Fortunately, I griped it strongly, and the thief failed… This wasn't a good start for this year, but I thought of it as a warning. Because I got several slight injuries last year, and thinking of it, I have still feel some pain in my heel. I don't need to gallop like a horse, but rather to control my body for my health. Ok ! My goal for this year is to keep in good health until the end of the year ! No injury !" . Did you have a good new year ?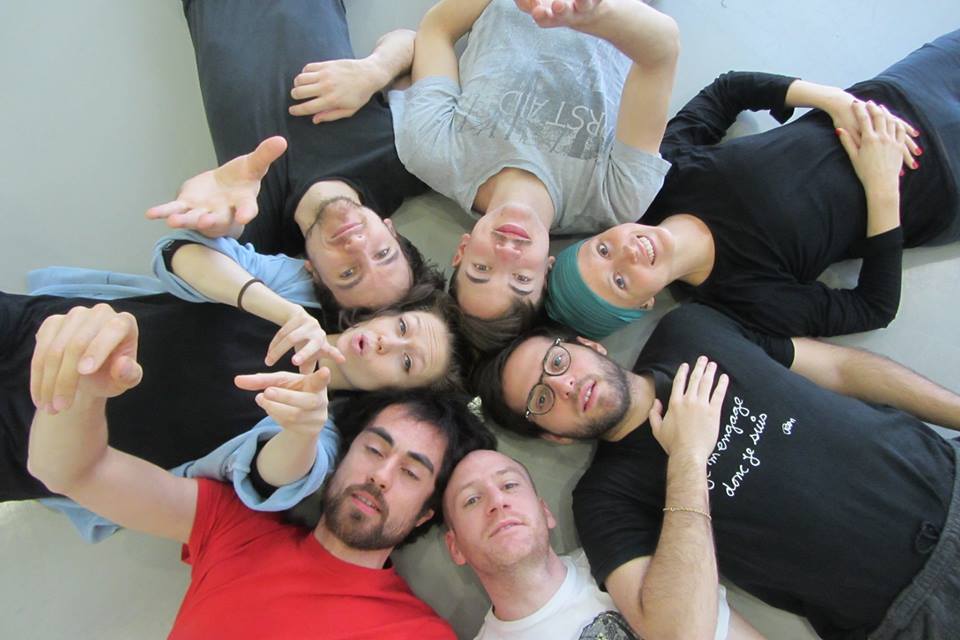 (My friends of Jacques Lecoq theater school)
The training of Lecoq still goes on. It started last October with my friends (we graduated from the Jacques Lecoq theater school in June 2013 ). We wanted to preserve the energy of creation and use what we learn back in school. We don't have any teacher. Every week, 2 persons take the responsibility of the training, deciding what we'll do. So every week, we work on a new subject. It's very interesting !! I hope it will go on a long time…
I will work on a creation with two of my friends of Lecoq. The first creation will begin around mid-February. This is first creation of a Lecoq group for me since the school. Another creation will begin around May / June. I'm eager to start working with my friends.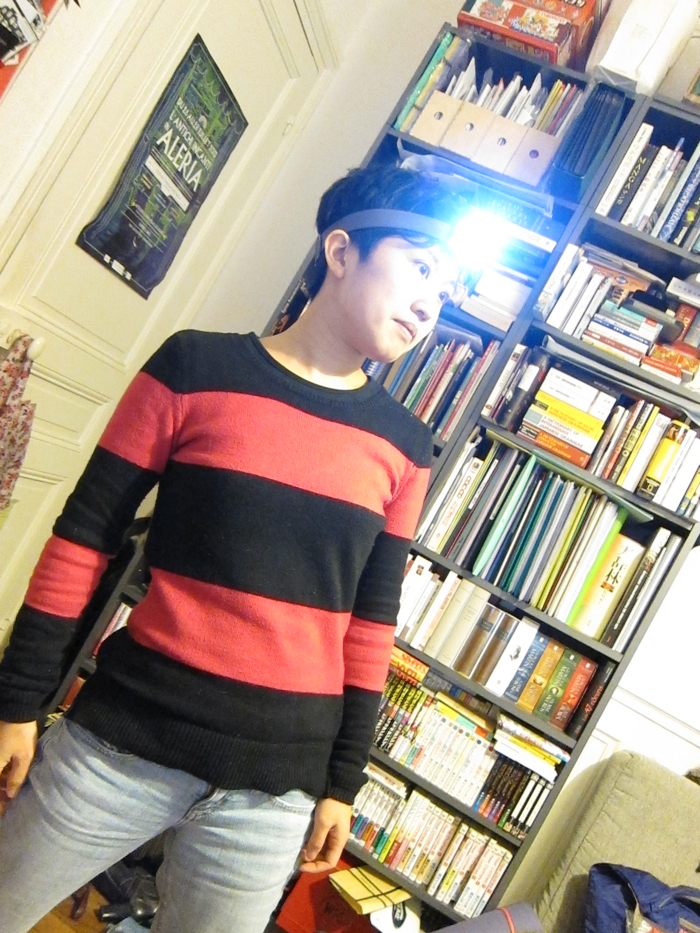 I want to continue my news (because I haven't posted for a long time…hahaha…)
I began another creation of object theater with a japanese friend mid-January. It was very very interesting !! We did a lot of work about space, voice, light, object… Sometimes, we're like maniacs, like a researcher… I love so much ! We will make a little show of this (15 min) and present it in a festival in March, in Paris. I will provide the details when I get more informations !! On this photo, I have a light on my head. Maybe we'll use this in the show… Maybe… Coming soon….!!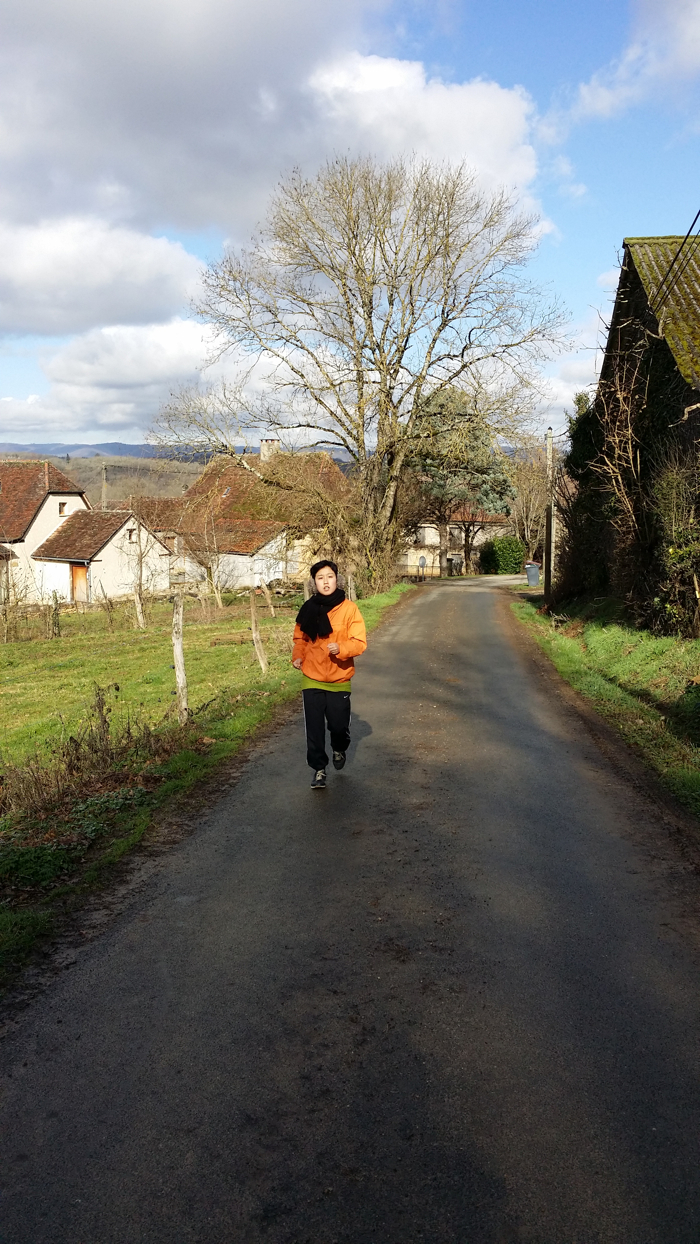 Now, I am a long way from Paris, on holiday at my mother-in-law's house. I'm refueling in the nature for the creations…I run, do some weight training…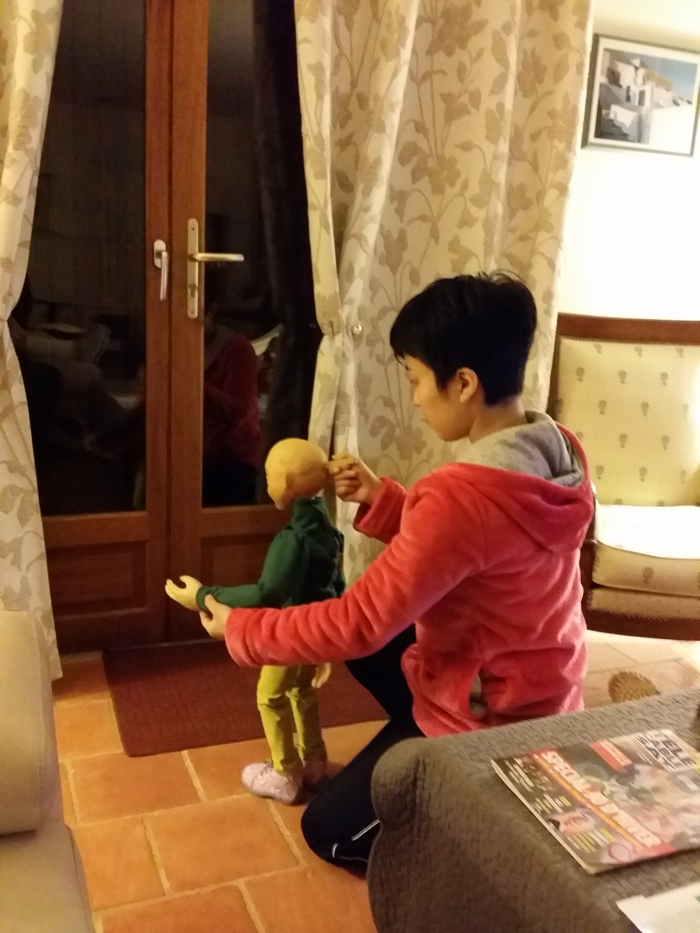 The night, I'm training myself at the manipulation of puppet, lent by my friend. I wanted to study the puppet for very long time. Recently, I participated in a puppeteer casting, and thought : "This is the occasion to study a technique of puppets ! I will try this casting ! I motivate myself for study when I have a goal. Even If I don't pass this casting, I'd still have learnt something ! " So I am in a big challenge ! Good luck !!
From the mid-January, I run at fuel-speed. Hope it will last until the end of the year !